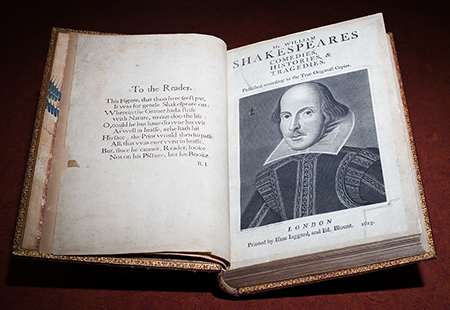 Join us as we celebrate 400 years of William Shakespeare's legacy!
2016 commemorates 400 years since the death of William Shakespeare. In honor of his life's works, the First Folio will make a rare public appearance in the Langson Library lobby! Other activities will include: a flash mob appearance by Shaken Shakespeare; First Folio title page puzzle and coloring sheets; free Shakespeare-themed buttons; and an appearance by Julia Lupton, UCI Professor of English and Comparative Literature; Co-Director of UCI Shakespeare Center; and Associate Dean for Research, School of Humanities.
An exhibit of additional Shakespeare material will be on display in the Langson Library 5th floor lobby, just outside of Special Collections & Archives,from April 25th-28th.
Date: Monday, April 25, 2016
Time: 10am - 2pm
Location: Langson Library lobby, UCI Libraries
Questions? Email: spcoll@uci.edu  Phone: (949)824-3947
P.S. If you can't make it April 25th, come to the Shakespeare First Folio Fridays Seminars August 12 & 26, 2016 at Langson Library. For further information, please call (949)824-4651 or email partners@uci.edu