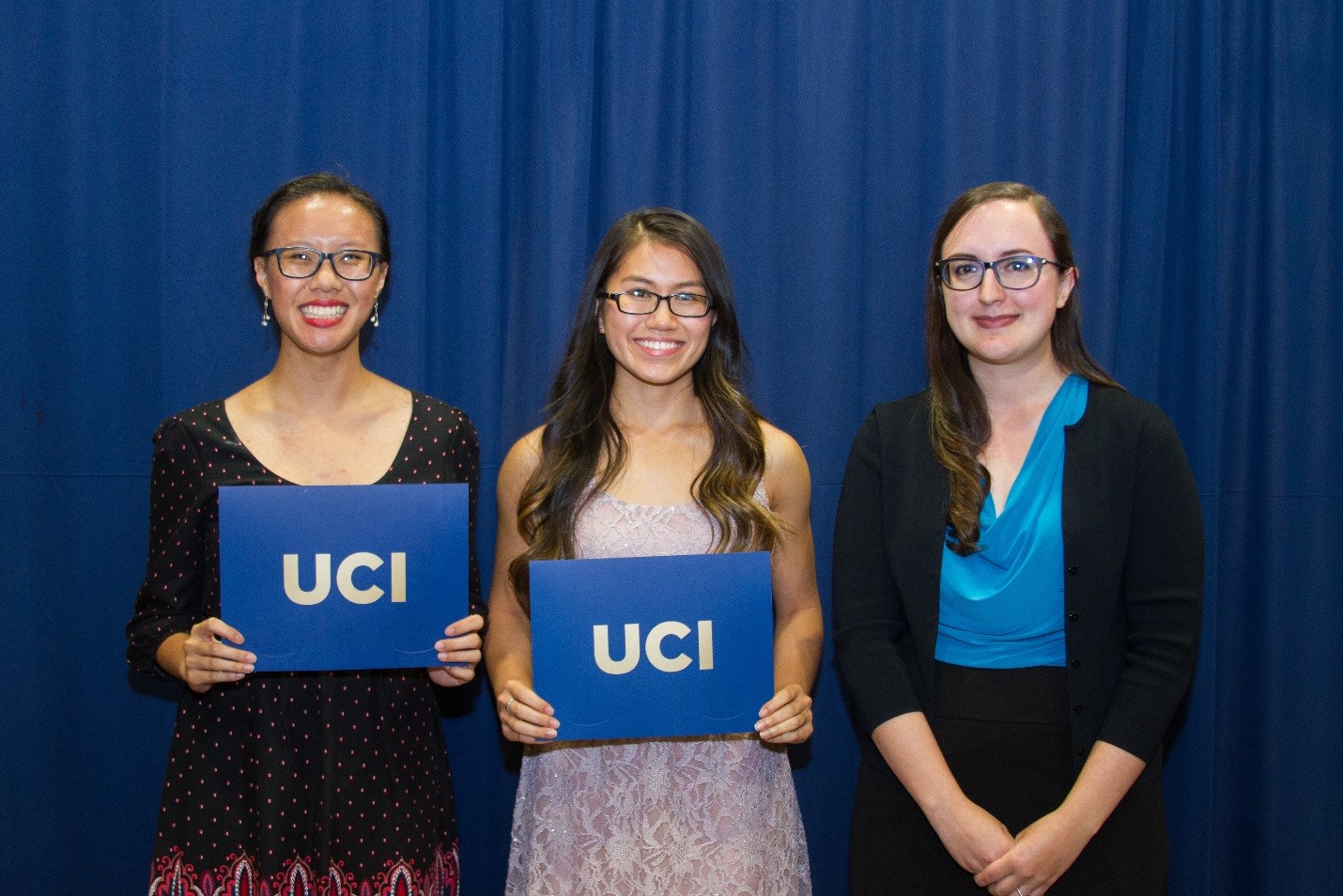 Pictured left to right: UCI Students Amber Fong and Celine Phong and UCI Libraries Education & Outreach Librarian Nicole Helregel
Not pictured: UCI Students Imane Hamza and Jason Yu

The undergraduate experience at UCI is enriched by numerous opportunities for individual and collaborative research, and the UCI Libraries are available to help students every step of the way.

"We are here to support students' journeys from novice researchers to accomplished scholars," says University Librarian Lorelei Tanji. 

The Nellie Ansley Reeves Award Endowment was established by Nellie Ansley Reeves, a generous supporter and friend of the UCI Libraries until her passing in 2000. For over 20 years, the Nellie Ansley Reeves Award endowment has funded prizes to UCI students to honor Reeves' wishes to involve students in scholarly research and writing. 

For the past two years the libraries have been pleased to collaborate with the Campuswide Honors Program to offer four awards for outstanding Honors Theses. On May 27, 2017, the awards were distributed at the Campuswide Honors Program Banquet. Work by students in any UCI discipline may be nominated, but this year's pool was dominated by STEM subjects. 
In "Spatial Assessment of Tri-Generation Fuel Cells to Support Hydrogen Refueling Infrastructure in California Using Conventional and Renewable Feedstocks," Amber Fong estimates the number and location of high temperature, tri-generation fuel cell (TGFC) systems in a growing fuel cell electric vehicle (FCEV) market in California and their economic and emission effects.  Fong worked with a faculty mentor from Electrical Engineering.

In "Determination of high-resolution structures of oligomers formed by β-amyloid," Imane Hamz investigates the molecular basis behind Alzheimer's disease. The research involved synthesizing versions of a peptide where the neurotoxicity of the condition originates. This research may help pave the way to new therapies and drugs. Hamza worked with faculty mentor Professor James Nowick, of the Chemistry Department in the School of Physical Sciences.

In "A CAS9 Mediated Gene-drive System in the Malaria Vector, Anopheles Stephensi," Celine Hein Phong explores the efficiency of homology-directed repair (HDR) for a gene-drive system capable of introgressing an anti-pathogen effector gene into control mosquito populations at rates that far surpass those of Mendelian inheritance. Strains based on this gene-drive system can help with the control of malaria and move us closer towards eradication. Phong worked with faculty mentor Dr. Anthony A. James, of the Microbiology & Molecular Genetics Department in the School of Medicine and the Molecular Biology and Biochemistry Department in the School of Biological Sciences.

In the final award-winning thesis, "Developing a Genetic Algorithm: Optimizing Luciferin Molecules for Bioluminescence Imaging," Jason Yu created an algorithm to evaluate the potential of synthetic luciferin dyes. This work could help uncover effective synthetic fluorophores and expedite the search for better dyes, which would improve the future of disease detection and bioluminescence imaging.
Yu worked with faculty mentor Professor Filipp Furche of the Chemistry Department in the School of Physical Sciences. 
Education & Outreach Librarian Nicole Helregel, who is the liaison to the Campuswide Honors Program, remarked that it is "gratifying to see the quality of undergraduate research at UCI. Students are doing in-depth projects that shows their skills in information literacy, critical thinking and clear writing." She emphasized that she and other librarians are available for individual consultations on such topics as finding and documenting sources and conducting a comprehensive literature review.
Kudos, Campus Wide Honors Program Award Winners!