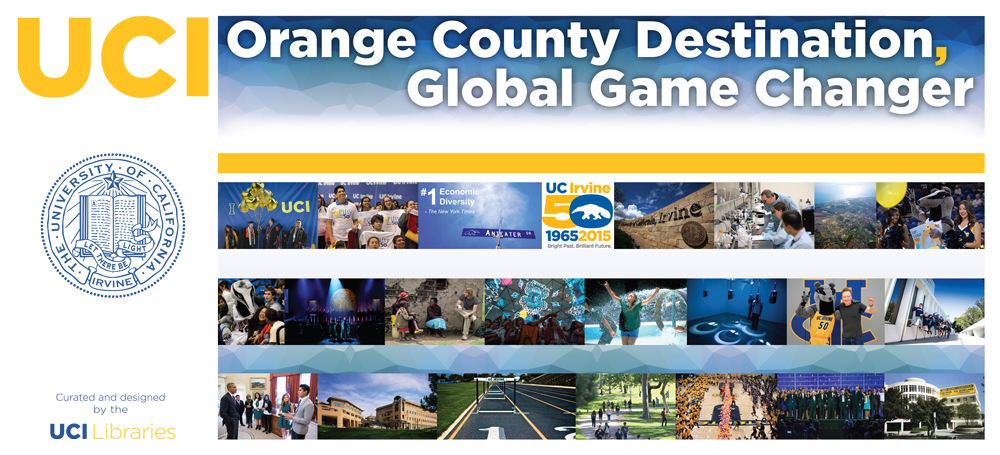 A new exhibit titled "UCI: Orange County Destination, Global Game Changer" is on display in John Wayne Airport's ORANGE COUNTY: Destination Art & Culture exhibition space until July 11, 2016.  Featured as part of John Wayne Airport's Arts Program, the exhibit highlights the past 50 years of UCI's achievements and can be viewed pre-security along the pedestrian walkway connecting Terminals B and C.
"Since 1965, the University of California, Irvine has played an integral role in the development of Orange County's economy and culture," said Chairwoman Lisa Bartlett. "John Wayne Airport is pleased to highlight UCI as it celebrates 50 years in our community."
Curated and designed by the UCI Libraries, the exhibit features photographs, documents, books, artifacts and reproductions from University Archives. Other UCI units including Claire Trevor School of the Arts, The Hill Bookstore, Athletics and School of Humanities, contributed physical materials to the displays.
"The Libraries were honored to be invited to lead this project in collaboration with UCI Strategic Communications" stated Lorelei Tanji, University Librarian. "Our Special Collections and University Archives have important materials that share the story about the accomplishments and impact of the campus on the community and beyond.  This opportunity showcases the importance of preserving and making available the University's historical records."  
View the exhibit artwork here.