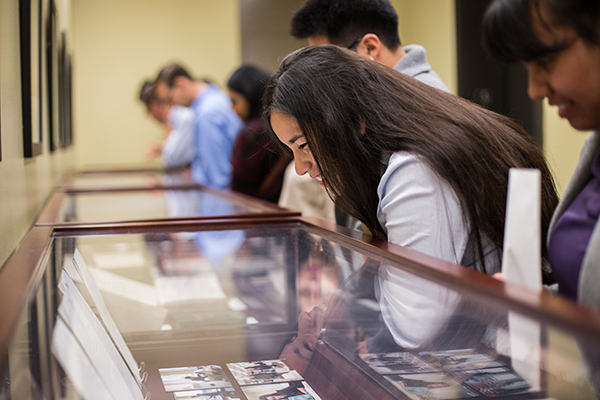 Wednesday, December 9th, marked the culmination of an internship program for 12 history students from the UCI School of Humanities. These students had the unique opportunity to intern at establishments around Orange County and facilitate greater access to historical knowledge for a wide audience. Students in this program worked in the field, on specific projects that engage the local community.
Three UCI history students worked with local school children on a History Day research project, which will eventually be entered into a county wide competition. They assisted the children in their topic choice and research, delving into resources the children had not been familiar with before, such as libraries, special collections and archives, and scholarly databases. The UCI students taught the children about annotated bibliographies and how to craft one.
 Another student worked with the Journal of Asian Studies, where she found value in working in a professional environment at a flagship publication. Two others worked with the Orange County Parks curating a recipe collection and digitizing historical documents.  All received great hands-on experience that will be valuable in all their future endeavors. One student remarked, "Prior to this internship, I thought research was so easy, I never knew how much work actually went into making the information so accessible."
Six other UCI students interned with the UCI Libraries' Special Collections and Archives, partnering with librarians and archivists, to work on individual projects and exhibits. This is the second year of a collaboration between UCI's History Department and the UCI Libraries' Special Collections and Archives. Each student assisted staff members with current library projects and additionally, researched and curated their own exhibit all based on the "Art of Letters."
The exhibit is currently housed in display cases in the elevator lobby of Special Collections and Archives (5th Floor, Langson Library) and two more cases in Orange County & Southeast Asian Archive (OC&SEAA) Center (Lower Gateway Plaza).
The interns chose a subject of focus and spent hours delving into their research to contribute to the exhibit. Erik Granados '16 researched and compiled Civil War letters, following one enlisted soldier's journey and hardships.
Charles Kim '17, another intern, looked into letters regarding going West and exploring a new frontier.  
Karina Sanchez '18 learned about the consequences of the Vietnam War through correspondence between families and friends.
Gabrielle Wood '18 learned new archival skills every week while researching Orange County and the rise of industry in California through letters.
Elsa Rodriguez '16 split her internship between two departments in the library, working with Research Librarian Rebecca Imamoto and Dr. Thuy Vo Dang, Archivist for the Southeast Asian Archive and Regional History.
 
The last intern, Samantha Engler '16 has big plans for her future that were influenced by her time in her internship. She has applied to intern with the National Archives in Washington D.C. in the summer. 
All of the interns this fall quarter were valuable additions to the UCI Libraries. We are grateful for our partnership with the Schools of Humanities, History department; it is collaborations such as this that make UCI a premier university. The UCI Libraries wishes all of the interns luck in their endeavors and goals.
For more information on this partnership please contact Thuy Vo Dang at thuy.vodang@uci.edu.
To view photos from the event, visit the Libraries' Flickr account.