Header Image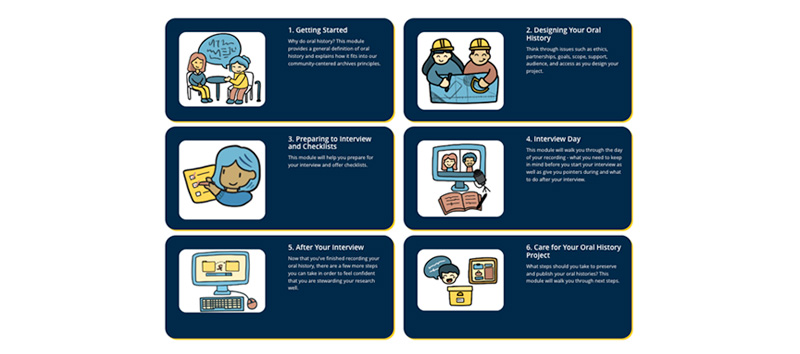 Display Title
UCI Libraries' Oral History Toolkit
News Date
September 15, 2021
Body
In March 2021, UCI Libraries launched the Oral History Toolkit – a free, digital resource designed to empower UCI affiliates and Orange County community members to conduct their own oral history interview or implement a large-scale project to document a community or historical event. Due to the COVID-19 pandemic, requests for remote consultations and training in oral history projects from Libraries' patrons greatly increased.
Previously, oral history resources were shared with researchers and faculty by request. In response to growing demand, the UCI Libraries' Special Collections and Archives team reimagined how to serve the community more efficiently. By developing a proactive approach, they anticipated the needs of users by providing a "one size fits all" resource, covering information for a wide scale of experience ranging from the young novice to the seasoned oral historian.
"The Oral History Toolkit really embodies UCI Libraries' values and commitment to providing free, open, and accessible resources that empower communities to create their own primary sources – stories that can help diversify the historical record," shares Thuy Vo Dang, Curator for Orange County and Southeast Asian Archive (OC&SEAA) and Research Librarian for Asian American Studies.
Accessible through the UCI Libraries' website, the Oral History Toolkit consists of six modules – each representing a different phase of the oral history collection process. Each module includes background information on how to conduct an oral history. The comprehensive informational guide includes links, template documents, and recommendations. "In many of my consultations with people starting a new project, they are often surprised about the complexity of preservation and access; when you build something that is meant to be an intervention in public history, it is so important to set up policies and procedures first to preserve the stories and make them widely accessible," shares Dang.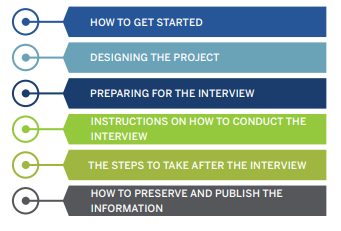 DOCUMENTING A CHAOTIC PRESENT
UCI undergraduate interns working on the Social Ecology Pandemic Histories Archive Project used the Oral History Toolkit for their class project. "We are living through a life-changing historical moment, with a cascade of issues and experiences, including the COVID-19 pandemic, social justice issues, economic insecurity, political change, and climate crises. It is important to document the ways that our students and our communities have been impacted," shares Susan Bibler Coutin, Associate Dean for Academic Programs in the School of Social Ecology and co-director of the Social Ecology Pandemic Histories Archive Project. Coutin worked virtually with approximately 300 student interns using the Oral History Toolkit to learn about community archiving, conducting oral history interviews, and producing metadata for an archive that will be part of the UCI Libraries Special Collections and Archives.
UNCOVERING AN ERASED PAST
In the community, Woodbridge High School student Prinston Pan used the Oral History Toolkit to create an oral history archive documenting the lives of Laotian Americans. Dr. Thuy Vo Dang's mentorship has been invaluable and inspiring for Pan. "Laotian Americans are a small unknown minority group in America. We do not get mentioned in history classes and textbooks. My goal for the Lao Oral History Project is to make the Lao story available to everyone. Lao literature, art, and written history are very scarce. There is barely anything keeping Lao history alive except for stories passed from generation to generation. But now, we have audio and video technology at our disposal to preserve these stories in their original and unaltered form. My project gives a way for the Laotian story to be told and recognized," shares Pan. To date, Pan has collected 17 first person accounts from Laotian Americans. Once completed, Pan's Lao Oral History Project will be preserved in Southeast Asian Archive and will be made available to the public as a digital collection on Calisphere.
The Libraries are committed to fostering community centered archives by supporting the preservation and access to underrepresented histories through free resources such as the Oral History Toolkit. To learn more about the UCI Libraries' Oral History Toolkit, please visit oralhistory.lib.uci.edu.