Header Image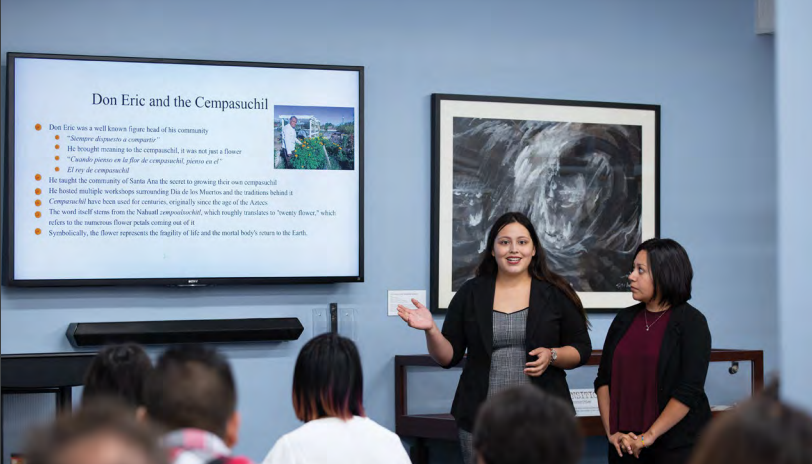 Display Title
Transforming Knowledge, Transforming Libraries
News Date
October 5, 2020
Body
In Spring 2017, the UCI Libraries were awarded a prestigious Institute of Museum and Library Services grant, Transforming Knowledge, Transforming Libraries (TKTL). The goal of this three-year research grant was to connect library and information studies practice with ethnic studies curriculum to provide undergraduates with first-hand experience in building and providing access to the cultural heritage of underrepresented communities. The research team, comprised of librarians from UCI Libraries' Special Collections and Archives, collaborated with the UCI departments of Asian American Studies, Chicano/Latino Studies and African American Studies, as well as stakeholders representing organizations throughout Orange County, California.
Receiving the Transforming Knowledge, Transforming Libraries grant was both significant and timely for Orange County. While the diverse population of Orange County and UCI has continued to grow, many researchers still point out minority groups are underrepresented in the historical record. In working with ethnic studies and community-based archives, TKTL researchers shared the common goals of empowering people and shifting the dominant narrative that erases marginalized communities and misrepresents them.
STUDENT SCHOLARS IN THE ARCHIVES
In 2018 and 2019, researchers worked with two summer cohorts totaling 30 undergraduate students. As part of the curriculum, student scholars learned valuable knowledge through a combination of seminars, workshops, discussions and guest presentations that took place over the course of 10-weeks. In addition to the traditional instruction and assignments, scholars received a general overview of technical archival work, such as processing materials, collecting oral histories and digitizing materials.
STUDENT SCHOLARS SUPPORT COMMUNITY PARTNERS
Student scholars' role and responsibilities were tailored to meet the specific needs of their assigned community archive. But what do community archives actually preserve? Curator for Orange County Regional History, Krystal Tribbett shares, "Archives do not start out with the purpose of being an archive. People save things to document their lives and experiences, and build community and connection with people. They are memories, and they become archives when they are preserved."
For example, student scholars assigned to work at the OC Heritage Museum processed a collection that once belonged to Harriet Tyler. Tyler was very active in the Orange County Black community assisting with cultural events, and advocating for education and civil rights. Her collection included ephemera that documented social life in the 1940s through the 1960s. Now, a predominantly Hispanic community, Tyler's collection of social life in Santa Ana shows how important it is to empower communities to document and preserve their pasts. In doing so, it ensures that the history of the area includes all the people that have shaped it throughout the years.
Supporting community-based archives is nothing new to the UCI Libraries. Tribbett shares, "Community based really means that the work is being done in the community from the ground up. The UCI Libraries recognizes our positionality, and bridges the commitment to the community and the work of preserving history."
THE STUDENT SCHOLAR EXPERIENCE
Aside from learning about local narratives and library sciences, Transforming Knowledge, Transforming Libraries was an inadvertent opportunity for student scholars to create self-identity. Exposure to archivists work within communities roused fourth year History and Anthropology double major and TKTL student scholar, Chloe Marbell Davidson's interest in pursuing a career in library science. Learning how to amplify voices within communities was a critical point in her Transforming Knowledge, Transforming Libraries experience. Growing up as a Latinx with disabilities, Davidson felt there was a lack of representation and availability of mentors with whom she could identify.
"I would be a different person without the experience. I would not have known that giving a voice to a new history is possible! Archives can be very alleviating and I want to use history as a tool for activism, wellness and healing for communities who have been hurt for so long or have not have the opportunity to tell their stories for themselves. I want to curate history that inspires students to speak up," said Davidson.
This past May, shortly after the conclusion of the Transforming Knowledge, Transforming Libraries, Davidson was one of 25 students accepted to the iSchool Inclusion Institute, a prestigious undergraduate research and leadership program that prepares students from underrepresented populations for graduate study and careers in the information sciences. She plans to focus on marginalized narratives and examine the intersectionality of people of color with disabilities by highlighting those who have overcome medical and societal challenges in their past to inspire younger students with disabilities to pursue higher education.
THE WORK CONTINUES
TKTL researchers developed the Community Archives Digital Portal, accessible through the California Digital Library's Online Archive of California and Calisphere. Going forward, UCI Libraries' Special Collections and Archives will manage the portal, and continue to maintain relationships with community partners and establish connections with new organizations. "The conversation about where to go from here is ongoing," shares Tribbett, "we know that we want to take elements from the Transforming Knowledge, Transforming Libraries project and infuse them into programs like Humanities Core and our primary source workshops by incorporating inclusive materials and teaching the principles and practices of community-centered archives." The research team and their colleagues are also reimagining the work of current Libraries' student employees, and hopes to provide them with the opportunity to take part in the discussion and gain hands-on experience. View the Transforming Knowledge, Transforming Libraries Final Report.
To learn more about the Transforming Knowledge, Transforming Libraries research grant, please visit ocseaa.lib.uci.edu.