Header Image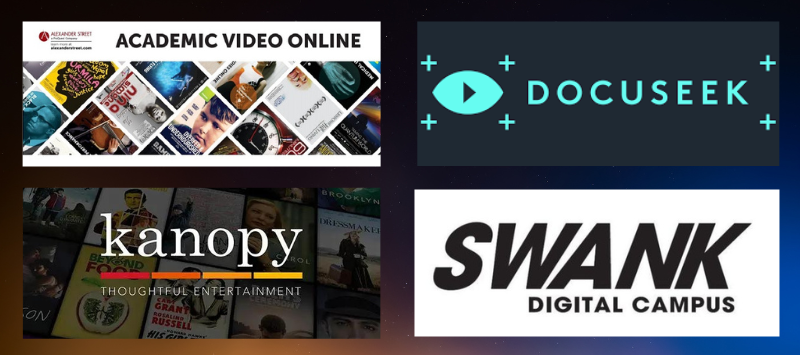 Display Title
Stream Media for Free with the Libraries
News Date
January 11, 2023
Body
Subscriptions to streaming services can get expensive. So can buying tickets for the performing arts. If you're a part of the UCI community, you're in luck!
Current UCI students, faculty, and staff can stream hundreds of thousands of media titles for free with UCI Libraries' streaming subscriptions, among which are Kanopy, Docuseek, Swank Digital Campus, and Academic Video Online (AVON).
These streaming platforms can be used for coursework, research, or entertainment.
AVAILABLE CONTENT
Featuring diverse media, the content on these streaming services ranges from movies and documentaries to live theater, music, and dance.
UCI affiliates interested in blockbusters can consult Swank Digital Campus for feature films, TV shows, and international films. AVON and Kanopy both include content on a wide range of topics, but AVON is particularly strong in American and world history. Alexander Street is also home to channels such as Black Studies in Video and Asian Film Online. For social science documentaries, Docuseek is a good option.
Research Librarian for Performing Arts Scott Stone encourages UCI affiliates to explore the Libraries' smaller platforms for niche choices. Examples of these smaller platforms are medici.tv, which livestreams worldwide music performances like operas and orchestras; Electronic Arts Intermix, which has media and video art from the 1960s onward; and Digital Theatre+, which offers modern theatrical productions from London's West End. The complete list of platforms also includes STEM and other audio content.
"People can unearth some true gems in many of these smaller platforms," said Stone.
EXCLUSIVE ACCESS
The present-day challenges of playing physical media have made these streaming services increasingly important.
"UCI Libraries has long offered ways to view movies, television shows, documentaries, and other media through our Multimedia Resources Center, but more frequently students don't have a way to play physical media at home," mentioned Stone.
Another advantage to the Libraries' subscriptions is the ability to view films exclusive to the platforms.
"Many of the films available through UCI Libraries are only available through these platforms that are licensed and purchased by libraries," said Stone.
OBTAINING ACCESS
A UCI affiliation and a connection to UCI's virtual private network (VPN) or campus network is needed for streaming. Visit UCI's Office of Information Technology (OIT) website for instructions on how to connect to UCI's VPN. For the complete list of streaming platforms as well as additional open access streaming content, check out the Libraries' Streaming Media Research Guide.
Questions? UCI faculty, students, and staff may contact Research Librarian for Performing Arts Scott Stone, stonesm@uci.edu.