Header Image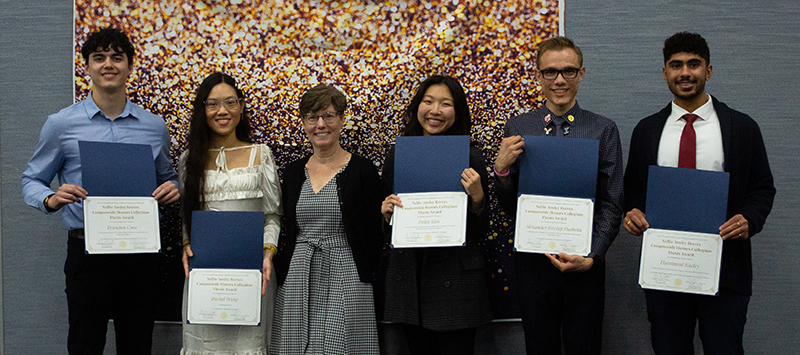 Display Title
Nellie Ansley Reeves Thesis Awards Celebrate Student Scholars
Body
Each year, UCI Libraries award four UC Irvine undergraduate students with the Nellie Ansley Reeves Awards for their outstanding senior theses. Presented at the annual Campuswide Honors Collegium banquet, the awards are accompanied by a $250 prize. In 2023, due to the high-quality of research and writing among candidates, the award committee recognized five graduating seniors with the award.
The Nellie Ansley Reeves Award Endowment was established by Nellie Ansley Reeves, a generous supporter and friend of the UCI Libraries until her passing in 2000. For more than 25 years, the endowment has funded prizes to UCI students to honor Reeves' wishes to involve students in scholarly research and writing.
The five 2023 awards include theses in the areas of English, pediatrics, chemistry, computer science, and molecular biology:
"Designing Women," by Rachel Wang, explores how women use clothing to design their own identity and femininity and how clothing is used by society to design women through sign systems. The study compares the protagonist of Samuel Richardson's "Pamela"(published in 1740) to Song Jia, a Korean fashion influencer who rose to fame in January 2022.
"Comparing Changes in Maternal Psychological States Following Two Types of Mindfulness Interventions in Pregnancy," by Daisy Kim, investigates the efficacy of mindfulness in improving pregnancy outcomes. The pilot study aimed to determine the optimal course of action to improve maternal psychological well-being in hopes of preventing poor birth and fetal outcomes.
"Combinatorial Generation of an Extensive Dataset of Polar Elementary Organic Mechanistic Steps," by Alexander Erving Dashuta, describes the development of the largest existing dataset of polar elementary organic mechanistic steps, with arrow-pushing, for processes at or below room temperature.
"Support for Stock Trend Prediction Using Transformers and Sentiment Analysis," by Harsimrat Kaeley, details a Transformer-based model that uses technical stock data and sentiment analysis to conduct accurate stock trend prediction over long-time windows.
Brandon Cove, a molecular biology and biochemistry student, also received the Nellie Ansley Reeves Award this year. Cove's thesis is related to the computational design of a novel, synthetic defensin, a class of peptides that have antimicrobial properties. The grant-funded research underlying Cove's project is still ongoing and can't be shared at this time.
Head of Reference and the Grunigen Medical Library Cynthia Johnson, who is the liaison to the Campuswide Honors Program, said it is a pleasure to read the thesis submissions each year.
"There were many excellent theses submitted this year that demonstrated information literacy, critical thinking, and clear writing," she said. "Due to high-quality of submission, the review is pleased we were able to recognize five graduating students with awards this year." 

Photo caption: Nellie Ansley Reeves Award Recipients, from left to right, Brandon Cove, Rachel Wang, Cynthia Johnson (UCI Libraries Head of Reference and Grunigen Medical Library), Daisy Kim, Alexander Erving Dashuta, and Harsimrat Kaeley