Header Image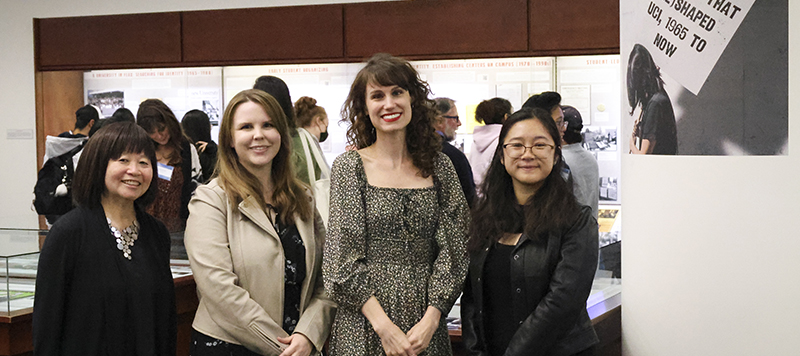 Display Title
Meet the Curators: A Q&A with the Anteater Spirit Exhibit Team
News Date
January 25, 2023
Body
Meet the curators who created Langson Library's newest exhibit, Anteater Spirit: Student Activism That (Re)shaped UCI, 1965 to Now: Elvia Arroyo-Ramírez (she/her/hers), digital archivist for University Archives; Carolyn Downey (she/her/hers), Education & Outreach library assistant; Jenna Dufour (she/her/hers), research librarian for visual arts; and Faith Lam (she/her/hers), a recent UCI alum (BA '22) who double majored in film and media studies and history.
The team spent more than a year pulling together over 100 original photographs, archival materials, and videos from the UCI Libraries University Archives. The Anteater Spirit exhibit, which explores six decades of student activism at UC Irvine, ranges from anti-war protests in the 1960s to the COVID-19 pandemic. Because this was the first time most of our curators have put together a large exhibit, we asked them about their experiences and what makes this exhibit so special.
WHAT'S BEEN YOUR FAVORITE PART ABOUT BEING A CURATOR?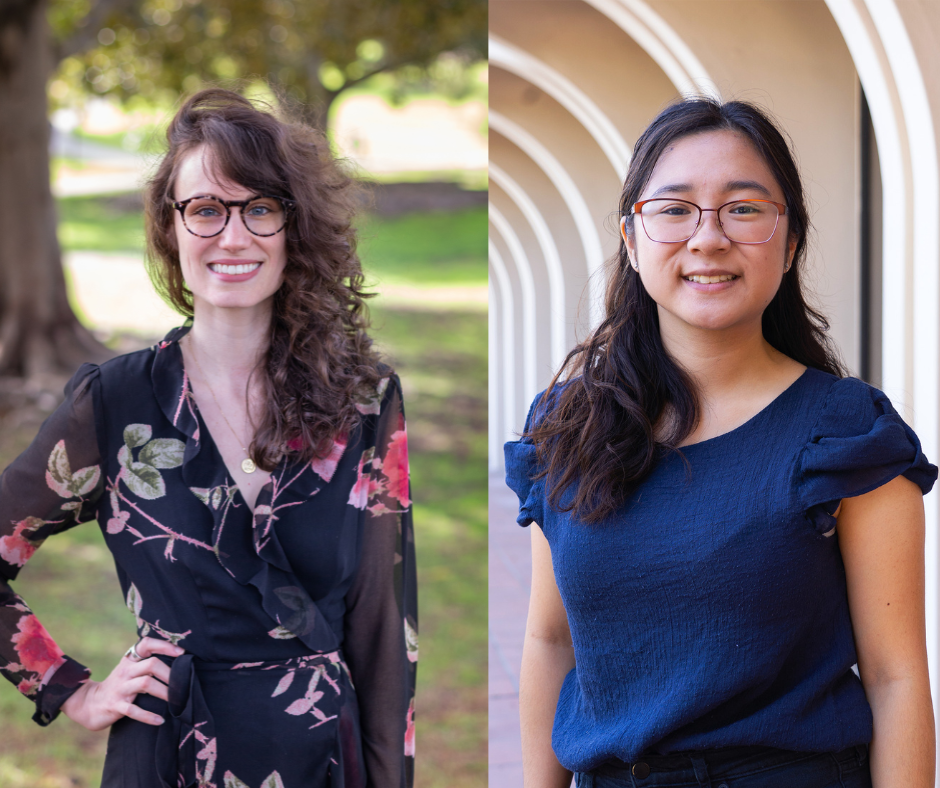 Downey: In my day-to-day work, I don't often interact with archival materials outside of teaching primary source workshops. I most appreciated the opportunity to listen to student voices from the past and bring light to their meaningful work in shaping campus culture.
Dufour: My favorite part of being a curator has been twofold: digging into some of the fascinating physical materials that we have in Special Collections & Archives and being able to work closely with talented colleagues who care deeply about the themes and issues this exhibit addresses.
Lam: One of the amazing privileges of being a curator was the ability to explore the vast amount of archival materials in our University Archives collections. Each item tells a significant story about the history of our campus and its students.
DO YOU HAVE A FAVORITE ITEM IN THE EXHIBIT?
Arroyo-Ramírez: One of my favorite items in our University Archives collections is a color photograph from the Cross-Cultural Center records circa 1993 of students representing Kababayan and MEChA in support of the establishment of Asian American studies. It is such a powerful image of solidarity amongst diverse student organizations in support of Asian American studies.
Downey: In the University Communications Photographs collection, there are photos taken during the protests for Asian American studies and the Shantytown Protests. Seeing details in faces, body language, and protest signs is a powerful and fascinating glimpse into that time on campus.
Dufour: I can't identify one item in the exhibit I would call my favorite because it's too difficult to choose. What stood out to me most was what these physical materials encapsulate: a time before likes, reposts, and shares. It was fun encountering so many posters and ephemera that students worked hard on designing, printing, and physically circulating across campus.
HOW DID YOU APPROACH CURATING AND DECIDE WHICH ITEMS TO INCLUDE?
Arroyo-Ramírez: I tried to capture the diversity of our student demographics by highlighting the individual stories of students who made an impact. So often the names of individual students are lost to history and not available in the archives. I tried to highlight students' names, when known, to honor their contributions to UCI history.
Lam: I chose items that were created by students to tell a more personal story. I chose ephemera, pieces that weren't made to last, to show the impact of simple flyers and postcards on a history far larger than them. I also thought closely about curating stories that spanned time periods. My intention was to create connections between different generations of Anteaters all seeking to redefine what UCI should represent.
WHAT MAKES THE TOPIC OF STUDENT ACTIVISM IMPORTANT TO YOU?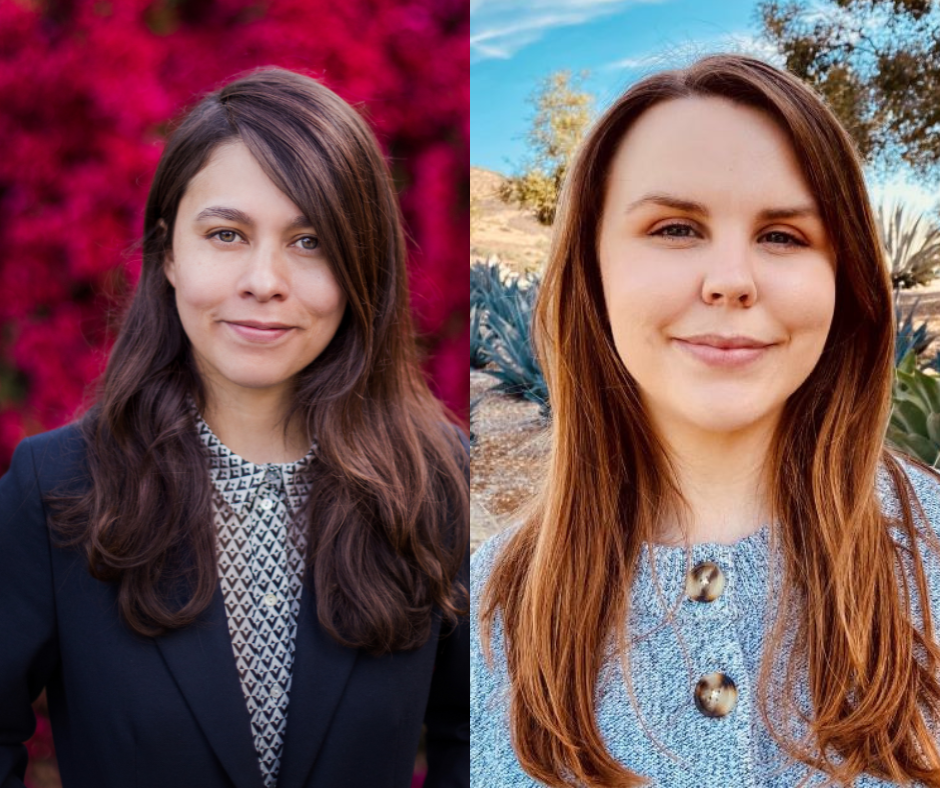 Arroyo-Ramírez: What I hope is clear after experiencing the exhibit is that so much of what UCI has come to be is because students fought hard to forge it into existence. From the selection of the Anteater as mascot to the creation of various ethnic studies departments and programs, to the establishment of the wellness centers on campus like SOAR, the Basic Needs Center, and the DREAM Center — these are all a result of ardent advocacy from generations of UCI students.
Downey: The concerns, experiences, and needs of students have and will continue to shape UCI culture. It is inspiring, and something I hold now as I teach information literacy workshops in UCI Libraries and interact with students working on their own research.
WHAT'S A FUN FACT ABOUT YOURSELF?
Dufour: My pandemic silver lining was learning how to wheel throw and make functional pottery. The learning curve was steep with many wobbly pots now living in my cupboards, but I now have a lifelong hobby that really helps me prioritize my mental health and well-being!
Lam: I've been a classically trained violinist since childhood, having played for 10 years. I have had the privilege to play with the San Francisco Opera and at the Walt Disney Concert Hall, as well as the honor of studying under amazing musicians that have performed around the world.
The Anteater Spirit exhibit will be on display in the Langson Library from November 2022 through mid-April 2023 during regular library hours. Visit the exhibit webpage for library hours, parking rates, and campus maps.