Header Image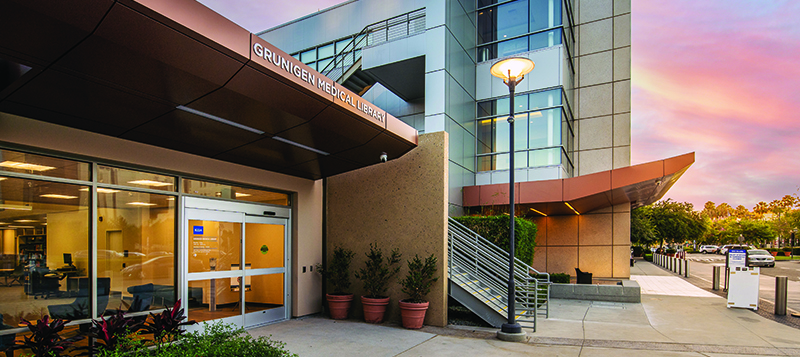 Display Title
Making Space for Everyone: Grunigen Medical Library Renovations 
News Date
October 27, 2022
Body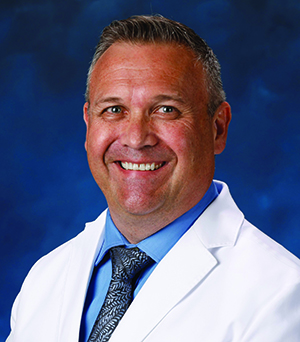 After being closed for nearly two years, the newly renovated Dr. Forest J. Grunigen Medical Library (GML) opened its doors to the UCI Medical Center (UCIMC) community in February 2022. As part of the goal to provide visitors with an updated space that encourages study, research, and reflection, GML was outfitted with new flooring, lighting, and furniture.
Previously, GML, which was renamed in honor of Dr. Grunigen in 2001, had an estimated 36,600 volumes of medical textbooks and journals on its shelves. However, with the increased use and preference for digital resources, UCI Libraries prioritized subscriptions to online medical books and journals, which resulted in fewer requests for the physical collection. To maximize study space, much of the physical collection was removed during the renovation to make space for new, comfortable furniture that is more conducive to individual and group study.
The existing Angela J. Rios Conference Room was also relocated to a larger space in the Library and equipped with new smart technology that supports group collaboration.
IN THE CENTER OF UCIMC ACTIVITY
The most striking change is the new main entrance. Before the renovation, the main entrance was tucked away, far from the hustle and bustle of the hospital. Today, the main entrance directly faces the UC Irvine Douglas Hospital, positioning GML in the center of UCIMC activity. The updated and enlarged Angela J. Rios Conference Room is used by individuals and departments from all over UCIMC.
Scott Phelps, lead inpatient acupuncturist at the UCI Susan Samueli Integrative Health Institute, frequently utilizes the renovated spaces for Inpatient Acupuncture team meetings. The Inpatient Acupuncture team provides patient care and consultations for cases ranging from the emergency department to the inpatient units as well as to the Acute Rehabilitation Unit.
"These renovations support the success of our team because they allow us to gather in person in one space and still practice social distancing. This enables our team to communicate effectively, which in turn improves continuity of care for our patients," shares Phelps.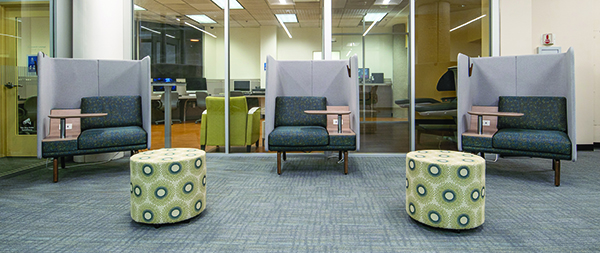 NEW SPACES, NEW POSSIBILITIES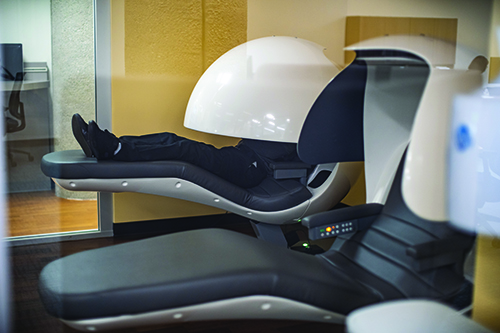 Finding space to study, collaborate, and relax at UCIMC can be challenging. For staff at the Grunigen Medical Library, it was important to create spaces that not only supported study and research, but also allowed visitors to relax, reflect and innovate. Envisioning the renovated spaces as "new" has allowed for opportunities to expand on the types of services GML can offer. 
"I received a request from a fourth-year medical student asking if we would be willing to start a leisure reading program for patients or families waiting for their loved ones. It was exciting to tell them we were already working on it," says Irene Morris, operations manager at the Grunigen Medical Library. 
The Grunigen Medical Library's primary focus has been to support the UCIMC's research and teaching mission. Although the Grunigen Medical Library is open to the public and staff can help patients with information requests, previously there were no patient-focused programs. The launch of the leisure reading program in May 2022 has further expanded the Grunigen Medical Library's reach and impact at UCIMC and in the lives of its patients.