Header Image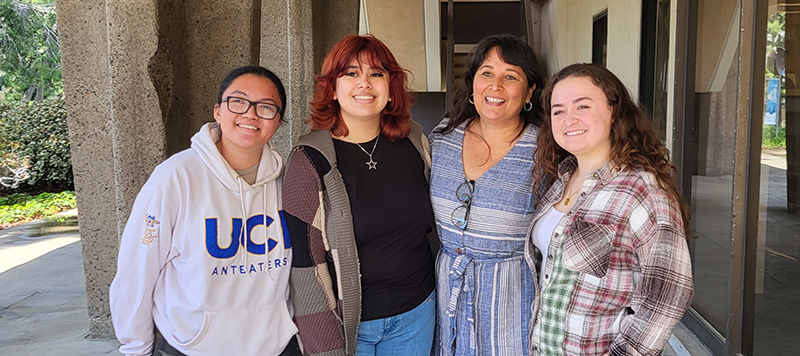 Display Title
LibroMobile Arts Cooperative and UCI Libraries Special Collections and Archives Form Partnership
Body
With the support of UCI Libraries Special Collections and Archives (SCA), LibroMobile Arts Cooperative (LMAC), a hybrid nonprofit bookstore as well as arts cooperative in Santa Ana, California, has started a community archiving project. The recent partnership, supported by SCA's grant-funded Community-Centered Archives Practice: Transforming Education, Advocacy, and Community History (C-CAP Teach) initiative, is helping LMAC document family and community histories in Orange County.
LMAC founder Sarah Rafael García explained the project is for and by the community.
"Our plan is to collect community and family-based oral histories and teach the community how to digitally archive family albums and memorabilia," she said.
Travel Kits and Training
With support from a Andrew W. Mellon Foundation grant, UCI Libraries has supplied LMAC with travel kits for digital archiving and gathering oral histories. Each kit includes a microphone, headphones, composition notebooks, and pens. A laptop and digital scanners are also available to check out at the LibroMobile bookstore.
To help the public learn to use the travel kits, UCI students and C-CAP TEACH scholars Chloe Ford, Inez Rosales, and Kaye Regalado created an instructional zine to accompany the kits.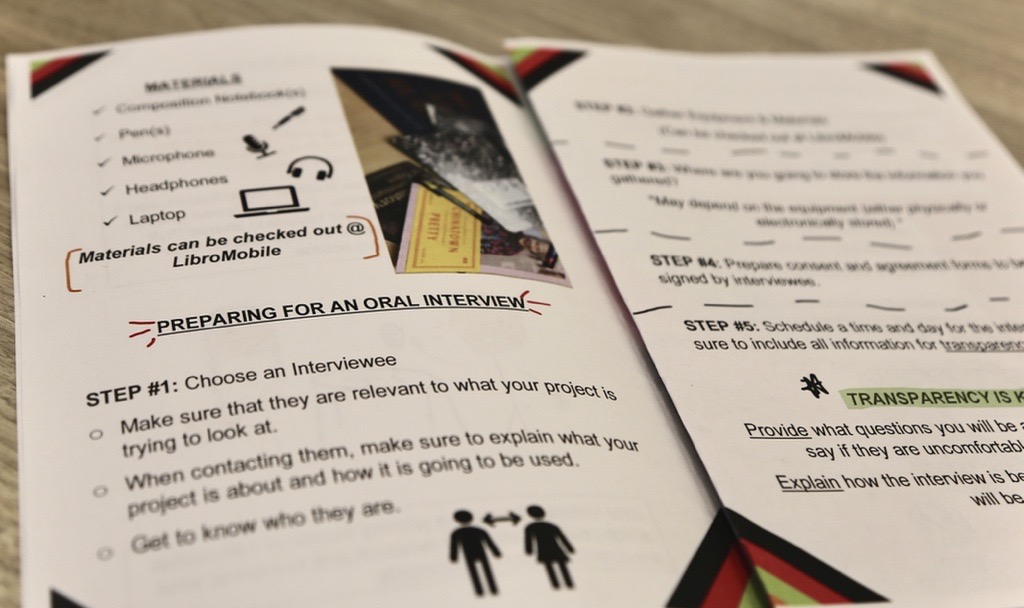 The zine, which is available in English and Spanish, contains step-by-step instructions on collecting oral histories. The UCI students used graphics, colors, and nonacademic language to make the instructions more accessible for a multicultural audience.
García said these tools are going to change the way that LMAC archives community stories. She believes the equipment provided by the Libraries will also benefit future projects: "UCI Libraries has helped us plant a seed."
In addition to the instructional zine, Ford, Rosales, and Regalado will be supporting LMAC with digital archiving workshops, digitization, and transitional age youth mentoring.
Beginnings of the Partnership
Although LMAC has completed archival projects in the past , it has not always had the resources it needed to properly carry out those projects. A pivotal moment for García with the community archiving project was when an intern experienced difficulties while trying to connect her personal computer to an LMAC scanner.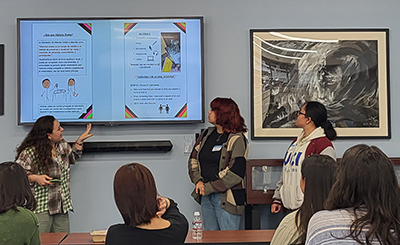 "That was when I realized I wasn't ready to do the project," explained García. "If I don't have the tools for my community, I'm going to make them feel awkward or not as equipped as they should be due to a lack of money, resources, and technology."
Interested in partnering with a group that was performing similar work, García reached out to UCI Libraries for assistance. She had learned about SCA through Thuy Vo Dang, UCI Libraries' former research librarian for Asian American studies and curator for the Southeast Asian Archive.
Since then, the partnership has been positive. García is particularly grateful for LMAC's continued autonomy and the attention it has received from Audra Eagle Yun, UCI Libraries University Archivist and Head of Special Collections and Archives.
"What I really appreciate is that Audra is not telling me what UCI Libraries need," said García. "She asks what we need and how they can help us."
Expected Timeline and Opportunities for Involvement
LMAC intends to have its archival project fully running by the summer of 2023. UCI students  who would like to hold workshops at LMAC's Santa Ana bookstore, educate the community about digitally archiving family keepsakes and gathering oral histories, and/or apply for an internship  should contact LMAC via its website.
To learn more about the special collections and other community-based archival efforts within UCI Libraries, visit the SCA webpage.
The header image for this story is of LibroMobile Arts Cooperative founder Sarah Rafael García (center right) with UCI students Kaye Regalado (left), Inez Rosales (center left), and Chloe Ford (right).