Header Image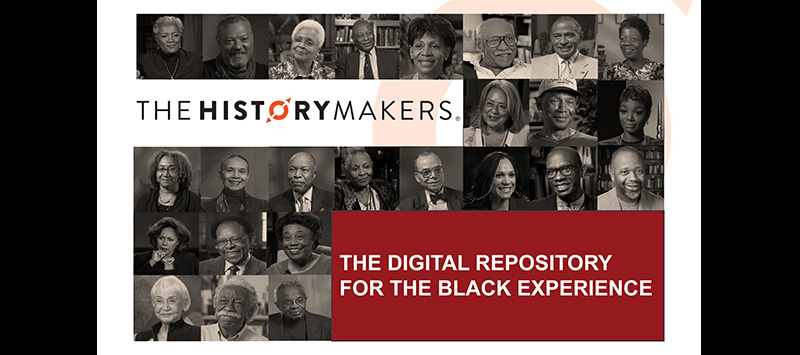 Display Title
The HistoryMakers Now Available Through UCI Libraries
News Date
September 29, 2023
Body
UCI students, faculty, and staff now have access to the The HistoryMakers, the nation's largest African American oral history video collection. UCI Libraries' three-year subscription to the online oral history archive includes nearly 150,000 stories assembled from the interviews of 2,708 historically significant African Americans. 
The oral history database focuses on Black "history makers," who have achieved success and/or made a significant impact in life or career in a wide variety of fields and areas, from the arts and politics to science and medicine.
"Our goal is to record the Black experience by documenting the African American experience in the first person," said Julieanna Richardson, founder and president of The HistoryMakers. "We seek to be the digital archive for the Black experience in the United States."
The mission of The HistoryMakers nonprofit and educational institution is to record, preserve, and disseminate the accomplishments of African American men and women who have made significant contributions to American life, history, and culture during the 19th, 20th, and 21st centuries. The earliest recollections in the collection date back to the late 19th century. Rather than focus on one part of a person's life or a single subject, such as a career achievement or participation in the civil rights movement, the interviews cover each person's entire span of memories as well as their family's story.
ABOUT THE HISTORYMAKERS
As of September 2023, The HistoryMakers team had completed more than 3,500 interviews of African American leaders across 15 different disciplines: the arts, business, civic engagement, education, entertainment, law, the media, medicine, STEM, the military, music, politics, religion, sports, and fashion. Nearly 150,000 stories from interviews with 2,708 Black Americans are currently available in the online database, and additional stories and interviews are continually added to the site as they are processed.
The interviews, which range from two to 15 hours long, were video recorded in 451 US cities and across the world. Interviewees include well-known American leaders and innovators as well as "unsung heroes." A small sampling of the interviewees shows the breadth of the archive:
UCI students, faculty, and staff can access The HistoryMakers collection via the UCI Libraries catalog using their UCInetID.
New interviews are being recorded and processed regularly, and UCI users will gain access to new online database material as it is added.
SEARCHING, FILTERING, AND USING THE ONLINE DATABASE
All videos in The HistoryMakers database have full transcripts and offer closed captioning. Interviews are subdivided into shorter segments (or clips) based on topic and content.
Users can search both biographies (maker directory) and stories (topic search). In addition to standard keyword search, predefined tags allow users to sort by historical content and biographical themes. Filters are also available to help sort by interviewee biographical details, such as born on date, birth state, and geographical locations.
It is also possible to create shortcuts to self-curated collections of video segments, or clips. After gathering a set of clips using the "Add to My Clips" button, users can create a shareable URL to the clip collection for later, such as in a syllabus or presentation. (Note you must be logged in using your UCInetID to access this feature.)
The online site includes several additional features that may be useful for researchers and educators:
Higher education lesson plans: Download sample lesson plans, and see examples of how the database is being used at other higher education institutions. 
Special collections: Subject-based collections of interviews that highlight specific groups and organizations important to African American history.
ScienceMakers: 11,806 stories assembled (as of September 2023) from oral history interviews with 214 historically significant African Americans in the sciences.
RELATED LIBRARIES RESOURCES
UCI Libraries have additional resources and materials that highlight the history, heritage, art, and scholarship of Black Americans. Examples include, but are not limited to, collections that focus on literature, nonfiction, culture, and civil rights organizations:
For a complete list of databases subscribed to by the UCI Libraries, see our Databases A to Z Research Guide.