Header Image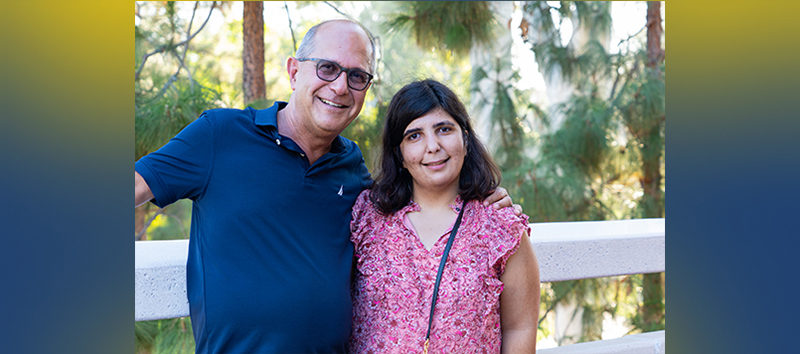 Display Title
From Father to Daughter
UCI Alumna and Her Father Share a History and a Passion for Libraries 
News Date
November 8, 2022
Body
Tech CEO and librarian aren't commonly roles you see associated with one another. For Corent Chief Executive Officer and Chairman of the Board Feyzi Fatehi, however, the connection is personal. 
The inventor of the first commercial real-time database, Feyzi is a Silicon Valley veteran with more than 25 years of leadership experience building high-performance teams at HP and multiple software companies. Despite his long history of success in the tech industry, he has an unusual background as a teenage librarian in his native Iran, and he's eager to share his love of libraries. 
As an avid supporter of education, Feyzi is an advisor to the UCLA Anderson School of Management's Global Access Program as well as a member of UCI Chief Executive Roundtable and the UCI School of Engineering Leadership Council. Over the years, Feyzi has been a vocal champion of the UCI Libraries and has encouraged many of his colleagues to visit our exhibits. Feyzi passed down his passion for education and libraries to his daughter Leila Fatehi (BA '21), who was a student worker with UCI Libraries during her time as an undergraduate.
Feyzi and Leila agreed to talk with UCI Libraries about their experiences and why libraries hold such a special place in their hearts.
UCI Libraries: You became a library employee at a very young age, Feyzi. When and where did you work?
Feyzi: When I was 12, I was lucky to be admitted to one of the highly coveted high schools in Iran, where I was born and raised. The high school had a rich library, but it was closed the month before I started at the high school. I somehow mustered the courage to ask the principal, who was a renowned, worldly scholar, when the library would open to students. He explained that the school librarian had some personal issues, and the library wouldn't reopen until he returned to work.
A couple of weeks later I inquired again, and the principal asked to see me in his office. I was astonished when he offered me the interim librarian job during the recess sessions. Later, I was promoted to full librarian. I even had a budget to buy books under his supervision. 
Why was this experience so meaningful to you, and how did it affect your later studies and career?
Feyzi: In retrospect, working as a librarian in high school was my first formal leadership position. The principal's trust in me became a significant source of self-esteem and self-confidence. I learned to trust in myself at a young age. Besides having access to all the books, I was the only student in the school to have my own office space. I was honored with this special role not just because I was the top academic student, but because I asked and persevered.
When I moved to Cambridge, UK at the age of 15 and later to the Hun School of Princeton in New Jersey at age 16, I carried with me that reverence for books, knowledge, and learning. I believe it served me well through my academic years and beyond.
Leila, you worked in the UCI Libraries as a student employee while you were an undergraduate. Did your father encourage you to work in the library?
Leila: My father didn't encourage me directly. However, his overall attitude toward books and his extensive library at home were a part of my upbringing. They favorably influenced my own attitude toward books and libraries.
I felt lucky to get the opportunity to work at the UCI Libraries. As a student worker, I liked the fact that it was a flexible job that allowed me to choose hours so I could prioritize my academic schedule and commitments. I particularly enjoyed helping to host Libraries events, where I was able to engage with students and faculty. It was great to be a part of the library atmosphere of knowledge, history, art, and culture.
Why do you feel libraries are important to our communities?
Feyzi: Libraries are a safe—and if I may say sacred—space to be surrounded by the thoughts and legacies of some of the most brilliant scholars over the centuries. A place to read, write, think, contemplate, and be inspired by other highly inspired people who cared enough to write down and publish their thoughts and ideas. This is a precious contribution to the rest of us. I personally find them a pleasant and peaceful place to congregate with others who operate at higher frequencies of thought and leadership.
Leila: In my opinion, libraries are essential in two main ways. For one, they are a central place to go to seek knowledge and information. Second, it is a place to meet and congregate with like-minded people who value learning, knowledge, and information.
Are you using anything you learned from working in the library in your current work?
Leila: Of course. I enjoyed the collaborative culture and support from my superiors and student colleagues. The atmosphere of learning and the multitude of knowledge resources have been a lifetime gateway to feeling connected to the wider world.
Feyzi: I learned that knowledge is important. Access to knowledge is important. Learning how to find and correlate knowledge to form information in a practical way is useful in so many fields. Hence, the evolving role of librarians as catalysts for knowledge is critical, especially for young people.
Do you feel a special connection to libraries, even today?
Feyzi: My connection to libraries is very personal, not just my own experience or that Leila and I share this. I have the unique privilege of having a prominent cousin, Noushafarin Ansari [retired library director at the Faculty of Literature and Humanities at Tehran University], who is a world-renowned thought leader and librarian. She was a source of guidance regarding books and libraries as I was growing up, and I am eternally grateful to her for her incredible support, guidance, encouragement, and mentorship over the years.
Leila: Without a doubt I feel a special connection to libraries. I really encourage other students to seek work in the library, not only to learn the ins and outs of access to information, but also to meet other cool students and faculty!
Feyzi Fatehi is Chief Executive Officer and Chairman of the Board at Corent. In addition to serving at UCI and UCLA, he has served as the chairman of the Technology Council of Southern California. He holds a BS in mechanical and solar engineering from the University of Texas at Austin, an MS in computer science from Texas State University, and an MBA from Santa Clara University.
Leila Fatehi earned a BA in international studies from UCI. She is currently a customer service executive with Reviews.io, an internet publishing company based in the UK.