Header Image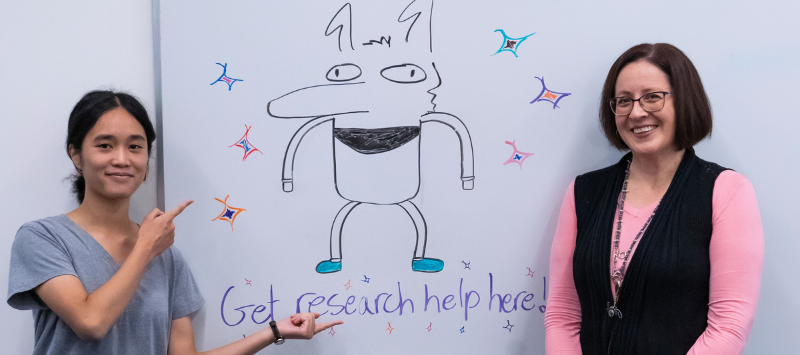 Display Title
Drop-In Research Assistance Promotes Quicker Research Help
News Date
November 21, 2022
Body
Update: As of 1/17/23, Get Research Help will be available in Langson Library at the computers by the Check Out Desk, Monday through Friday from 12:00 p.m. to 3:00 p.m.
Get Research Help, a new drop-in research assistance pilot program, is now available in Langson Library. Students can visit Langson room 229 Monday through Friday anytime between 12:00 and 3:00 p.m. for research help with assignments, projects, and more.
Library staff can help students with questions such as beginning their research and finding sources. They can also answer any other questions about research, the Libraries, and their services.
REASONS FOR THE PILOT
"Our objective with this pilot is to be an immediate point of contact for our patrons," said Library Assistant Supervisor Antoinette Avila.
During Get Research Help hours, students in need of more instant support can receive quick assistance without having to wait for an appointment with a subject librarian. For students who want a guaranteed half-hour research consultation, however, these appointments can still be valuable.
"Part of the goal of these drop-in hours is to create another access point for our patrons to get help using the library or get help with their research" explained Avila.
The program is also meant to be a referral point for staff working the Check Out Desk.
"By providing this service, we are creating a space where our colleagues at the Check Out Desk can refer patrons," added Avila. "Research questions can take some time, and during busy periods at the Check Out Desk, it is difficult to devote ample time to patrons who have more detailed research questions."
As teaching and services have largely shifted back to being in person, the increased number of students on campus led to the pilot's implementation.
"We launched the pilot this fall, because with the level of students that were going to be returning, it was looking more like a pre-pandemic quarter," said Avila.
Get Research Help has largely been led, planned, and developed by the Reference department, with the Education and Outreach department also helping to staff the program.
FUTURE OF THE PILOT
Throughout the fall quarter, drop-in research help will be available. The service will be evaluated toward the end of the quarter and a decision will be made regarding whether the assistance will also be offered during the winter quarter. So far, the service is being used and UCI Libraries are getting positive feedback from students who have been helped.
"Things are looking active at this point, so there's potential for it to continue," observed Avila.
According to Avila, there is also interest in having student workers eventually get involved with Get Research Help to provide peer-to-peer service.
VISITOR INFORMATION
Although the service is geared toward undergraduate students, the Libraries' staff will help anyone who stops by and has a question, including graduate students, faculty, and community members.
"Our goal is to provide all our patrons with research help," asserted Avila. "For students who are on campus a lot, this program will be especially helpful."
For more information, visit the Libraries' webpage for Langson Library hours, Get Research Help, and details about scheduling an appointment with a research librarian.