Header Image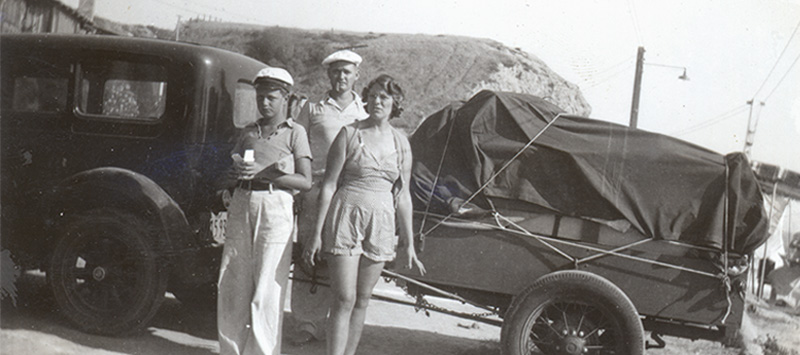 Display Title
Collecting the Cove
Local History Joins the Archives
News Date
October 4, 2021
Body
Founder emeritus of the Crystal Cove Conservancy, Laura Davick, has generously donated her archives to be part of the Orange County Regional History Collection in the UCI Libraries' Special Collections & Archives Department. As a third generation "Coveite," or resident of Crystal Cove, Ms. Davick's collection includes photographs, oral histories, and ephemera, which document 100 years of Crystal Cove's history. Crystal Cove, situated on 3.2 miles of coastline between Corona Del Mar and Laguna Beach, has a long and important history of farming, recreation, and habitat conservation in Orange County. In addition to her collection, Ms. Davick also made a generous gift to establish a new endowment at the Libraries. The Laura Davick Crystal Cove Historical Archive Collection Endowment, will provide support for the processing, preservation, and access to her collection and other Orange County Regional history collections at UCI.
Ms. Davick shared, "Crystal Cove has been a huge part of my family's history dating back to 1937. Since 1999, I have dedicated my life to the protection and preservation of this incredible historic resource. During this period, Laura Davick's grandparents and Laura's uncle. Guy and Mable Webb and their son Tom Webb. Circa 1937 first arriving at Crystal Cove to begin tent camping for the summer. I have worked on many levels to ensure that Crystal Cove is preserved for future generations through the organization that I founded, now known as Crystal Cove Conservancy. Part of that process has also been about preserving its history. I can think of no better place than UCI Libraries Special Collections and Archives to be the ultimate repository of my collection and family records. For the past two decades it has been my intention to see this through during my lifetime. It brings me great peace to know that this journey has now finally begun."
The Laura Davick Crystal Cove Historical Archive Collection (after processing and cataloging) will be accessible to students and researchers from the campus and community who visit the UCI Libraries Special Collections and Archives Department. The UCI Libraries will also be creating a website featuring the background and histories of the 46 cottages in Crystal Cove. These cottages, built in the 1920s and '30s for beach-goers and tropical movie backgrounds under the ownership of The Irvine Company, are now listed on the National Register of Historic Places, and have been restored by the California State Parks and the Crystal Cove Alliance.
Ashley Burke, a Library IT supervisor, will serve as the Project Lead for the Libraries' team creating the website, which includes staff from UCI Libraries IT, Special Collections and Archives, Development, Communications and Events, and Design Services. Burke shared, "It is an exciting opportunity to create something that will highlight the beauty and history of Crystal Cove! I can't wait to showcase and inspire research about the stories, traditions, and images of such a wonderful part of Orange County." Audra Eagle Yun, Head of Special Collections and Archives and University Archivist, said, "As the founder of the Crystal Cove Alliance, Laura Davick understands the value of ensuring access to our shared Orange County history. We are honored to preserve and make discoverable the historic archives, stories, and photographs cared for by Laura for scholars and researchers around the world now and for generations to come."
The collection is currently being processed and catalogued before work on the website can begin. The collection will be available in Special Collections and Archives Department, which serves the campus, local, and international communities by fostering curiosity and discovery through preservation, access, and education. For more information, please visit special.lib.uci.edu.