Header Image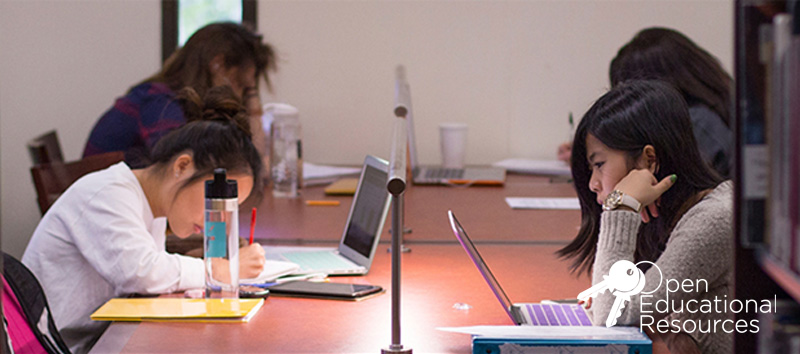 Display Title
Affordable Course Materials (ACM) Initiative Seeks to Reduce Educational Costs for Students
Faculty Applications Now Open
Body
UC Irvine estimates that the yearly cost of books and supplies is $1,346 per student, on top of tuition and living expenses. When students cannot afford the course materials they need, they may resort to using out-of-date materials or foregoing materials all together, which can impact their learning outcomes.
Providing students with affordable course materials, on the other hand, has been shown to make higher education more equitable and inclusive. It not only reduces the financial burden of education, but also increases graduation and retention rates among college students.
The Affordable Course Materials (ACM) Initiative, spearheaded by a team of UCI librarians and funded by an Innovation Grant from the UCI Libraries, is looking to expand student access to free and reduced-cost course materials.
OER VERSUS ACM
The Hewlett Foundation defines open educational resources (OERs) as "teaching, learning and research materials in any medium – digital or otherwise – that reside in the public domain." Because these materials have been released under an open license, there's no cost to access, use, adapt, or redistribute them. Thus, replacing expensive textbooks or software with OER can greatly reduce student out-of-pocket expenses and ensure they have access to the resources and educational materials they need for class assignments.
Affordable course materials (ACM) include both OER, as well as ebooks, newspapers, film, images, music, digital objects, and software licensed or owned by UCI Libraries.
According to the UCI Libraries team spearheading the ACM and OER Initiative – Nicole Arnold, Research Librarian for Student Success and Instruction; Tatiana Bryant, Research Librarian for Digital Humanities, History, and African American Studies; and Nicole Carpenter, Research Librarian for Social Sciences – their goal is help faculty reduce course costs for students using accessible, relevant, and engaging ACM and OER.
For faculty, modifying course requirements may include adopting an open textbook, creating and repurposing their own OER materials, or transitioning to free or reduced-cost materials already licensed or owned by UCI Libraries.
"UCI Libraries already owns or licenses a vast catalog of educational resources, including streaming content, ebooks, digital tools, and more," says ACMI team member Nicole Arnold. "Through our initiative, we're looking to help UCI faculty convert their course syllabi to utilize more of these and other available resources."
APPLICATIONS AND INFORMATION SESSIONS
UCI faculty and lecturers interested in learning more can register to attend an upcoming virtual information session:
"Faculty who attend our upcoming workshops will learn where to find these free and affordable options that significantly lessen the burden of cost for their students," says Arnold.
Even if they are unable to attend the workshops, UCI instructors can submit their interest and course information to OER@uci.edu before submitting an application. If accepted, faculty will receive specialized support from UCI Libraries and may be eligible for financial support.
To learn more about this topic, consult the UCI Libraries Affordable Course Materials and Open Educational Resources (OER) Research Guide for Faculty and ACM & OER Initiative website.
With questions about the ACM and OER Initiative or application process, email Nicole Carpenter, ncarp@uci.edu.